Episodes
1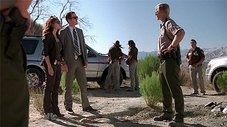 When a sheriff's deputy is found murdered on an Indian reservation, Crews and Reese find themselves in the middle of a turf war between Tribal police and the county sheriff's department. The detectives learn the victim was not well-liked on the reservation and the opening of a new profitable casino may have led to the deputy's demise.
Crews attends a fundraiser thrown by Mickey Rayborn, one of the individuals Crews believes was involved in the conspiracy against him.
Read More
Crew
1
Directed by: Adam Arkin
Written by: No writer has been added.