Overview
Years ago, the fearsome pirate king Gol D. Roger was executed, leaving a huge pile of treasure and the famous "One Piece" behind. Whoever claims the "One Piece" will be named the new pirate king. Monkey D. Luffy, a boy who consumed one of the "Devil's Fruits", has it in his head that he'll follow in the footsteps of his idol, the pirate Shanks, and find the One Piece. It helps, of course, that his body has the properties of rubber and he's surrounded by a bevy of skilled fighters and thieves to help him along the way. Monkey D. Luffy brings a bunch of his crew followed by, Roronoa Zoro, Nami, Usopp, Sanji, Tony-Tony Chopper, Nico Robin, Franky, and Brook. They will do anything to get the One Piece and become King of the Pirates!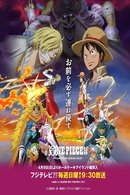 2017 | 30 Episodes
Monkey D. Luffy, accompanied by Nami, Tony Tony Chopper, Brook, and the minks Pekoms, Pedro, and Carrot, heads to Whole Cake Island, where Big Mom of the Yonko resides. Nicknamed the Sanji Retrieval Team,[1] they seek to rescue their crewmate Sanji from his arranged marriage with Charlotte Pudding, set up to finalize a political alliance between the Charlotte Family and the Vinsmoke Family. Totto Land is the fourth location the Straw Hats visit in the New World, with Cacao Island and Whole Cake Island being the fourth and fifth islands they visit.
Find out where to watch this on:
Facts
Status Returning Series
Network
Certification
Meaning

Children 12 or older admitted, children between 6 and 11 only when accompanied by parent or a legal guardian.
Type Scripted
Original Language Japanese
Runtime 25m
Homepage http://www.toei-anim.co.jp/tv/onep/
Content Score
Almost there...