Episodes
3
Several months have passed. Mike is now living with Axl and Zeb, and has still not dealt with the end of his marriage. Ty and Eva have an interesting and passionate relationship, while Agnetha sends Anders off to Norway to secure a mysterious object. Axl expresses frustration that his brothers appear to have abandoned the quest for Frigg, while Loki continues to manipulate the situation. Agnetha discloses her real identity as their mother to Axl, Mike and Ty. An old acquaintance of Olaf prophesies that Axl must become a man before he can be a god; and then Frigg will come to him.
Read More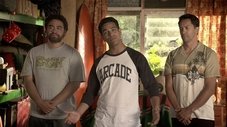 As Axl deals with duelling prophecies, a cold wind sweeps in from the North, leading to a marriage Anders never saw coming. Meanwhile Olaf makes an intriguing discovery at the bottom of a bottle.
Read More
On the day of Gaia's actual 21st it sucks to be mortal, and being a God isn't exactly plain-sailing either.
Read More