Episodes
6
Pruitt Dover is owed $100 by Ax Parsons. They struggle over a knife after drinking heavily. Pruitt wakes up. Parson is dead with the knife in his chest. Louie Pheeters sees Pruitt ride off. The Elkader sheriff has Pruitt in jail. Matt goes and picks him up. On the way back, a crazy old man shoots Matt. Pruitt kills the guy in a struggle over his knife. Pruitt digs the bullet out. He takes Matt's gun and rides off as he sleeps. He returns, he has been hunting. Back in Dodge he is locked up. Judge Brooking Matt's friend is sick and Judge Henry is in town. Matt speaks up for Pruitt. Henry finds him guilty and sentences him to hang. Matt heads to Hays City with Pruitt for the hanging. Matt tells Pruitt to get on his horse and escape. He does but changes his mind and catches up to Matt. They reach Hays and Pruitt is hung.
Read More
Collie stole cattle and shot Davis Henry's leg half off. He's returning home from eight years in prison. Matt tells his wife Francie it's gonna take a lot of patience. Matt tells Rob his Pa is coming home. Matt asks Davis to go easy on Collie. Collie says the marshall gonna pay. Nort tells Collie Rob and Francie work for Davis. Collie gets a gun and rides over to Davis'. Francie goes to get Matt. Matt and Francie meet Rob on his way to get Matt. Matt heads for Davis'. Nort is gonna shoot Davis. Collie tries to stop him, and is shot. Davis kills Nort. As he dies Collie tells Francie it's better this way I was just in the way.
Read More
Jeff Newcom's been calling on Millie Smith for over a year. Millie proposes to Jeff. He isn't ready. Millie agrees to go to the dance with Colley Carter. Carrie, Jeff's Ma, wants to send Jeff to Chicago to work for his uncle. Millie says she won't wait for him. Matt wants Chester to go out and help the widow Newcom. Millie and Colley are in the Long Branch. Jeff's back from Chicago and gets in a fight with Colley. Millie tells Jeff you have no claim on me. Jeff tells Carrie I'm home to stay. Carrie's selling the ranch. Jeff chases Mr Humphrey, the land agent, and his client off. Humphrey returns with Matt. Matt has a warrant for Jeff for disturbing the peace. Millie sees Jeff ride in. Millie says Colley doesn't mean anything to me. Jeff asks Millie to marry him. Jeff tells Ma he's marrying Millie. Carrie's seeing Doc and he says she doesn't have long. Carrie sends for Millie and offers her $2000 to leave town. She won't. Carrie shoots(wings) Millie and collapses.
Read More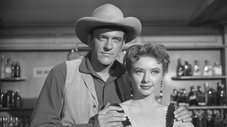 Tobin shoots a guy that owes him money from a poker game. Elmo Sippy comes by but doesn't help. Elmo gets in a poker game with Tobin. Elmo owes Tobin $25 on the last pot. Elmo steals exactly $25 from Wib's cash drawer. Wib tells Matt he thinks Elmo took $25. Elmo robs a nester of $20, and warns him not to say anything. Elmo buys Emmett Calhoun a drink at the Smoky Hill Saloon in Elkader. The hotel clerk wants $2 extra for Emmett staying in Elmo's room. Elmo says there was a rat in it. The clerk goes to look. Elmo steals $10 from the desk. Matt asks the nester if he's seen Elmo. He says he ain't seen nobody. Elmo offers $50 for a horse. He pays for it with the butt of his gun killing Joe Parks the livery owner. The clerk says two strangers stayed at the hotel last night. The barkeep heard Elmo say he was going to the Smoky Hill River. Elmo shoots Hank Barr and gets $3 and a watch. Calhoun says he quits. Hank's not dead yet and kills Calhoun. Matt stops at the Salt
Read More
Disturbed over being forced to kill a prisoner who was trying to save his life, Matt Dillion turns in his badge.
Read More