Episodes
3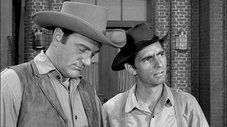 Kitty is the mystery woman of the day. She rides off in the night undercover and picks up a young boy. She doesn't want to tell Matt or Doc who he is and why she is takes off in the night. When she leaves for a few days with a wagon filled with enough supplies for a whole family, the guys start wondering who that boy really was...
Read More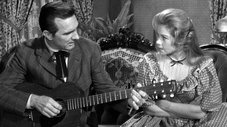 At the square dance Miss Kate Tassel gives up waiting for Bud Bones and goes dancing with Hank. Bud shows up and gets in a fight with Hank. Matt breaks it up. Bud tells Kate if I can't come callin' no one can. Billy Joe comes callin'. Bud throws Billy Joe and Kate in the trough. George Wannamaker comes callin'. Bud ties him up and sends him into town on an old cow. Kate tells Matt she is through with Bud. Bud spanks Kate in the middle of town. Matt tells them to stay away from one another until they cool off. She invites Matt to dinner he declines. She invites Chester to dinner and to teach her to play the guitar. Kate says she is going to San Francisco to play guitar in public. Bud tells her she shouldn't go, she tosses him out. Bud joins the army. In a fight with indians he tells the lieutenant to give him 50 cartridges. He puts the powder in a canteen. He gets shot, but throws the canteen. It explodes, the soldiers charge and win. Kate tells Chester she is going to
Read More
At Sherman Barracks Department of the Platte Omaha, retired Colonel Gabe Wilson comes to see retired General Kip Marston. The general's son,Billy, by an indian is living near Dodge. Kip asks Gabe to bring his son to him. Lem calls Billy Squawman, to rile Billy. In the fray a window and chair is broken. Mr. Green brings charges. Gabe bails Billy out. Gabe tells Billy we're going to Omaha. Billy goes out a window. Matt tells Gabe Green drops the charges. Billy's back home. Gabe comes and tells Billy he's a wanted man. Come with me to Omaha and everything will be fine. Kip's coming to Dodge. Bill's wife Missy tells Matt Billy left with Gabe. Billy gets Gabe's gun, and tells him to git. Gabe says you will have to shoot me. Matt shows up. Kip asks forgiveness for abandoning Billy and his mother. Nothing to forgive says Billy. Missy tells Kip he's not Billy's father.
Read More