Episodes
3
Jason rides up to Jed Woodard's homestead and asks if he can water his horse. While he's doing that Jed notices a guitar strapped to Jason's horse. He takes it out and starts fooling with it. Jason is very possessive about the instrument and each time he asks Jed to give it to him Jed abuses it a little more. Finally, he's knocking it against a sharp piece of wood and is on the verge of puncturing it. Jason will take no more, draws his knife, and stabs Jed in the chest. He digs a grave but doesn't finish burying the body because two riders are approaching. He arrives in Dodge and stops in at the Long Branch where Kitty is throwing a birthday party for Doc. Kitty asks him to play some music, and he agrees to play in return for some food. The following day Jack and Dan, the two riders that scared Jason off, arrive in Dodge. They disturb the peace and Matt relieves them of their guns. Later
that night they get into a fight with Jason and Matt throws them in jail. W
Read More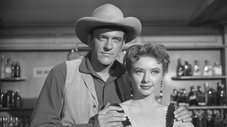 Lars Karlgren, a Scandinavian immigrant and his teenage son Petter, find the West even wilder than they had imagined when they settle in Dodge City. Petter gets framed for a murder of a man who was picking a fight with him.
Read More
Billy comes back to Dodge because he has trouble finding anyone to listen to his stories and visit Festus who is a friend of his. Billy retarded and tells Festus a riddle and the answer given isn't funny to Billy, Doc tells Festus that Billy has the mind of a seven or eight year old and needs better care.
Billy sees a man hurting a cat and almost kills the man, not knowing that what he did was wrong Matt and Festus talk to Judge Brooker and Festus becomes a guardian to Billy. When a deer is shot for food Billy attacks Festus. Festus has a hard time trying to make Billy understand why the deer was shot.
Doc tells Festus to take Billy back to where he came from but finds that hard to do. They go to the place Doc suggested and Billy gets worried about the noises inside the place. Festus tells Billy he is going to kill rabbits for dinner and try to give Billy a taste of life.
Matt, Doc & Festus find Billy telling kids stories at an orphan's home.
Read More