Overview
Media
Fandom
Share
Episodes
6
Chester is leaving to visit his cousin Thurlow. In Kalvesta, Simeon brings a Cheyene indian tied up into Adam's general store. Later it is heard the Indian escaped. Callie goes to get water. The Indian appears and asks for help. Callie tells him to hide till morning. Adam and his son Frank go to town. Callie gahers some things and goes looking for the Indian. Chester stops by for water and grain. He shoots the Indian who was trying to steal a horse and escape. Callie tells Chester he has to help him. He digs the bullet out. Callie finds them. She tells Chester we can't let him die. They see Pa coming, Callie and the Indian hide. She sends Chester to town for medical supplies. Chester takes the Indian to a nearby shack. Callie syas she wants to stay with the Indian always. The Indian pulls a rifle on them and takes Chester's horse. Callie pleads to go with him. He rides off. Chester goes to catch a stage.
Read More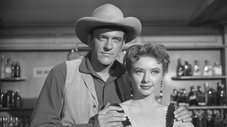 Tobin shoots a guy that owes him money from a poker game. Elmo Sippy comes by but doesn't help. Elmo gets in a poker game with Tobin. Elmo owes Tobin $25 on the last pot. Elmo steals exactly $25 from Wib's cash drawer. Wib tells Matt he thinks Elmo took $25. Elmo robs a nester of $20, and warns him not to say anything. Elmo buys Emmett Calhoun a drink at the Smoky Hill Saloon in Elkader. The hotel clerk wants $2 extra for Emmett staying in Elmo's room. Elmo says there was a rat in it. The clerk goes to look. Elmo steals $10 from the desk. Matt asks the nester if he's seen Elmo. He says he ain't seen nobody. Elmo offers $50 for a horse. He pays for it with the butt of his gun killing Joe Parks the livery owner. The clerk says two strangers stayed at the hotel last night. The barkeep heard Elmo say he was going to the Smoky Hill River. Elmo shoots Hank Barr and gets $3 and a watch. Calhoun says he quits. Hank's not dead yet and kills Calhoun. Matt stops at the Salt
Read More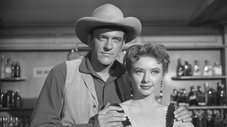 A gang of outlaws (Dove Baily, Coley Martin, Harve Kane, Hank Wheeler, and siblings Eddie and Allie Sommers) are being chased by two posses for robbing the railroad of $20,000 and shooting three employees. Matt manages to shoot one of them in the shoulder before they get away. A couple days later Doc finds Allie in his office with a bullet wound in her shoulder. Matt suspects she may have been one of the gang members, but says nothing. She tells Matt that she was separated from a wagon train and shot by Indians. After two weeks convalescing, and getting to like city life, Allie sees Kane in town. He tells her that Matt shot her brother down when he was trying to surrender. He wants her to lead Matt into a trap so they can kill him and then show the gang where her brother hid the money before he died. This task proves to be a little more difficult than it sounds; Matt and Festus are pretty hard to kill.
Read More
Three baby boys are born on a stagecoach that arrives in Dodge just after being robbed. Their mother dies and Doc fights to keep the boys together instead of going to an orphange.
Read More
Leary O'Quillan kills a card cheat in self defense and is pursued to Dodge by the man's brother, Clay Tynan.
Read More
Kitty is in a stage wreck and dazed and confused she sets out in the wild. Meeting up with a wild girl who does not speak, she winds up at a shack where a family takes her and the wild girl hostage. Intent on turning the child into a sideshow, they tie Kitty up but are stopped before they can get too far.
Read More