Episodes
5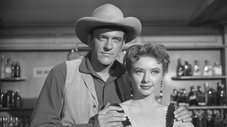 A gang of outlaws (Dove Baily, Coley Martin, Harve Kane, Hank Wheeler, and siblings Eddie and Allie Sommers) are being chased by two posses for robbing the railroad of $20,000 and shooting three employees. Matt manages to shoot one of them in the shoulder before they get away. A couple days later Doc finds Allie in his office with a bullet wound in her shoulder. Matt suspects she may have been one of the gang members, but says nothing. She tells Matt that she was separated from a wagon train and shot by Indians. After two weeks convalescing, and getting to like city life, Allie sees Kane in town. He tells her that Matt shot her brother down when he was trying to surrender. He wants her to lead Matt into a trap so they can kill him and then show the gang where her brother hid the money before he died. This task proves to be a little more difficult than it sounds; Matt and Festus are pretty hard to kill.
Read More
In an attempt to get money two prairie wolfers steal money from Dolan, a hardened storekeeper, then when one tries to give it back trouble starts.
Read More
Leary O'Quillan kills a card cheat in self defense and is pursued to Dodge by the man's brother, Clay Tynan.
Read More
Three bounty hunters hold hostages in the Long Branch to get Matt to turn over a prisoner to them.
Read More