Episodes
2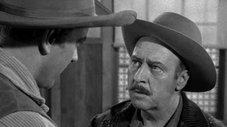 Sam Rickers comes to the Marshal's Office asking to see Matt. Chester looks inside the wagon to find a dead man, Sam thinks he killed a criminal hoping to get $1000 for the crime. Matt learns that dead man was shot three times & was new to Dodge City.
When Matt asks how the third got in the dead man's back Letty almost tells what really happened. Rickers his her and tells the story better in hopes of getting the reward money.
Matt wants to protect Sam Rickers from Catlin who brings a poster with Jake Haney's picture on it Matt wants to protect Rickers by keeping him in jail.
Read More
Expand
Matt's bringing Ben Crown in for murder. They meet Quint who's been hunting. They ride up to Willa Devlin's whose buried four family members. Her dead husband Luther is on the porch. She faints, Quint carries her in. Willa takes a shine to Quint. Ben keeps telling Matt he's got the wrong man. Matt takes Willa an antelope but says he can't stay for supper. Willa comes onto Quint. Crown's not guilty someone else confessed. Ben asks Matt to send a telegram to the sheriff in Hays City saying he's not wanted. He has the chance to buy into the Nations Saloon there. Ben goes to Willa's and forces his way in. Nally, Willa's neighbor, tells Matt Quint roughed Willa up. Matt asks Willa who did it. At first she says Quint but the Crown. Matt goes to Hays City and tells Crown he's under arrest. They tussle. Ben's locked up. Matt tells Quint he got Crown.
Read More
Expand