Episodes
6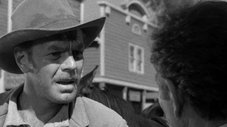 Chester worries about bugs & sees Billy messing with a wagon. Matt & Chester meet the owners of the wagon, they feel the newcomers have more trouble a head. McCready accuses the new family of stealing from him. A man comes looking for Doc because Cholera may have come to Dodge. When Doc doesn't show up treat the Cholera victims Matt & Chester try to find him.
Jeni tells Matt Doc is with McCready Matt & Chester find Doc.
Read More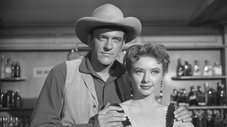 Jess and Jay Bartell, twins, have run the family feed and fuel business since Pa took sick. Nancy and Festus stop by the office, but Jess is busy with a guy in a tweed jacket who smokes a pipe. Later, Jess is working at the desk. The door opens. He's shot. The cashbox is ransacked. Sam Bartell has lost his wife, his health and now his son. Nancy is crying and runs to hug Jay. Jay tells Nancy I know you were going to marry Jess. Jay tells George Hoover no more credit. Sam tells Jay he's fought with three customers today. Jay is tired of being compared to Jess. Sam and Nancy tell Jay to forget about revenge. Jay says they just have to find the man. Jay's drinking regularly and heavily at the Long Branch. Jay's drunk and attacks Barney Cogswell. He's wearing a tweed jacket and smoking a pipe. Sam says Jess was the strong one and covered for Jay. Matt asks Sam if Jay knows anything about the stranger. Jess asked if he could buy a ranch and leave. The stranger returns.
Read More
Sam and Frank Band, and two of their friends, arrive in the small town of Greenwood, OK expecting to quench their thirst with whiskey and find only soda pop available. Not being overly smart or long on manners, they shoot up the small general store/sheriff's office. Thad, sheriff Greenwood's son and deputy, talks his father into issuing an arrest warrant for the men, just before he dies of a heart attack. After catching up with the four vandals in Dodge, Matt has to explain to Thad that an Oklahoma warrant isn't executable in Kansas. Matt and Festus have been trying to hunt down a pack of wolves suspected of butchering cattle on the nearby ranches. But, something isn't quite right about the way the animals have been attacking and, even though a bounty has been offered for each wolf pelt turned in, none have been forthcoming. Matt and Festus begin to put two-and-two together and turn their suspicions towards the Band's and their friends.
Read More
Part 1: Bob Johnson, Zack Johnson and Floyd Binnes are accused of cattle rustling by Parker a powerful land baron, Floyd is killed while being drug behind a horse, Zack is crippled by a horse stomping his legs and back. Bob is beaten. Once in Dodge Bob meets Angel, while Zack dies of his wounds. Bob in getting revenge taunts Parker's hot-headed son into a gunfight kills him, and plans to go after Parker.
Read More
Part 2: Matt goes after Bob Johnson who is planning to kill Parker to avenge the death of his friends.
Read More