Episodes
3
Ollie Ridgers is a free spirited man who hates towns and lives free on the prairie. His friend Jim Branch convinces Ollie to go into Dodge for a good time at Miss Kitty's saloon.
While Ollie is in town, two men kill Ollie's hogs and mule. Ollie goes after the two men thus killing one of the men.
Matt is forced to arrest his good friend Ollie for killing one of the men.
After Ollie has been found guilty of murder and sentenced to a long prison term, Ollie's friend, (Jim Branch) kills Ollie to spare Ollie from the cruelty of being being incarcerated for the rest of his life.
Read More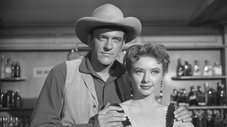 Howie tells Matt the lobby of the Dodge House is full of indians. Wiley demands Matt get them out. They want a room, they have gold to pay for it. The chief is sick with fever. Matt sends for Doc. He's got pneumonia. Lt.Cal Tripp, of the 14th cavalry from Walla Walla, tells Matt to put the chief and the two braves in his room. He is Chief Joseph of the Nez Perce. Corly Watts brother was killed by the Nez Perce. The Chief is going to Washington D.C. to talk to the president. Wiley's rabble rousing. Tripp overhears them. Tripp goes to Wiley's office and tells him if a mob tries to storm the hotel it may get burned. Matt calls Charlie Britton a thief. He busts a bottle over Matt's arm. Matt throws him out of Dodge for a month. Charlie's going to Corly. Matt sends a telegram. Doc looks at Matt's arm. Britton tells Corly, Chief Joseph is in Dodge. Tripp tells Kitty and Festus of the chief's daughter bathing in a stream and white trappers. The Long Branch empties to see
Read More