Episodes
4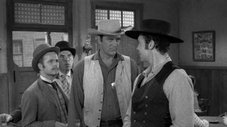 Matt's getting his haircut. The barber tells about a couple of Texans he shaved, who talked about a crooked gambler they played in San Antonio, named Nick Search. Matt saved Nick's life. Nick arrives on the stage and goes to see Bill Pence, who runs the Long Branch, about setting up a poker game. Enoch Mills is the richest man in town. In poker if you win you're cheating and if you lose it serves you right. Mills heads into the Long Branch with $5000, Nick suggests they go upstairs. Matt wants to watch the game. Nick doesn't want him to. Matt tells Nick if you've got a straight flush you're through in Dodge. Nick goes for his gun. Matt shoots his hand. Doc tells Nick it will be stiff as a board for the rest of your life. Nick was seting Enoch up all week.
Read More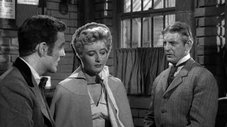 Willie Calhoun's in town for a bath and a haircut, in preparation to court Pearl Bender. Willie meets Pearl in the Long Branch. He asks her to marry him. She says Webb Thorne won't let me marry you. Willie gets a rifle and goes after Webb. Matt stops him. Matt gets Pearl, Webb and Willie together. Willie says he and Pearl are to wed. Webb says I'll stop them. Matt tells Pearl to choose. Pearl tells Willie I can't marry you. In her room Pearl tells Webb you are not going to touch me. You left here and never said nothing. Webb says he's come back to marry her. Chester brings Willie's rifle back to him. Willie shoots Pearl. A simple man let feeling for a woman get the best of him. Matt tells Willie he shot Pearl not Webb.
Read More
Ernie Stubblefield trying to put his past behind him changes his name to Earl Stafford and is traveling with a laughing gas show. Cloud Marsh tries the gas and gets laughed at by the town. Angry he and his brothers attack Stubblefield/Stafford.
Read More