Episodes
2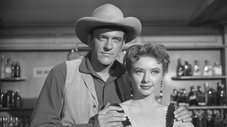 When an older gentlemen, Jacob Leech, comes into the Dodge jail house and tells Matt and Chester that he plans to kill a man named Ollie Radford, Matt puts Jacob Leech in the jail for the night to cool off.
When the next day arrives, Jacob seems to have had a change of heart about killing Ollie Radford. He tells Matt that he has had a change of heart.
Matt and Chester run into Ollie Radford the next day and Radford tells Matt and Chester that he was married to Jacob Leech's daughter.
Late on when Jacob Leech learns that Ollie Radford went to see his pregnant wife at Ma Smalley's boarding house, Jacob Leech forces Miss Kitty at gunpoint to take him to Ma's boarding house. Jacob apparently has not changed his mind about killing Radford afterall.
When Clem the bartender later tells Matt that Leech and Miss Kitty left the Longbranch together, Matt and Chester go in search of Jacob Leech and Miss Kitty.
Read More
Expand
Harvey Easter tries to reform Dodge. He convinces two saddle tramps, Kelly and Bunch to take up farming, Mary to quit working at the Long Branch to be independent and take in wash, gets Charlie Fess to quit riding shotgun on the stage and guts the oasis bar with fire by throwing a lamp after unsuccessfully trying to get Harry Obie and two cowpokes to reform. Kelly and Bunch are tired of farming and decide to rob a stage, it doesn't work out. The townspeople decide to teach Harvey a lesson. They put him in a canvas bag and dunk him in the water tower. The pole breaks and Harvey drowns before they can get him out.
Read More
Expand