Episodes
4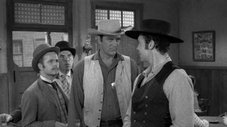 Matt's getting his haircut. The barber tells about a couple of Texans he shaved, who talked about a crooked gambler they played in San Antonio, named Nick Search. Matt saved Nick's life. Nick arrives on the stage and goes to see Bill Pence, who runs the Long Branch, about setting up a poker game. Enoch Mills is the richest man in town. In poker if you win you're cheating and if you lose it serves you right. Mills heads into the Long Branch with $5000, Nick suggests they go upstairs. Matt wants to watch the game. Nick doesn't want him to. Matt tells Nick if you've got a straight flush you're through in Dodge. Nick goes for his gun. Matt shoots his hand. Doc tells Nick it will be stiff as a board for the rest of your life. Nick was seting Enoch up all week.
Read More
Matt and Chester track Nation for a killing in Dodge. Nation kills their horses then gives himself up. They wind up having to take a stage back to Dodge. Nation recognizes a man on the stage and helps Matt prevent a robbery.
Read More
We don't have an overview translated in English. Help us expand our database by adding one.
Gorman, Mandee, Keys, and Torreon break out of Leavenworth Territorial Prison and abduct Matt while he's on his nightly rounds. A note is found on the telegraph office door from Gorman explaining that they've got Matt and he won't be harmed if they get to the Mexican border unmolested. The instructions in the note call for the Dodge telegrapher to wire all towns south, between Dodge and the Oklahoma border, and inform all peace officers to stay out of their way or they'll kill Matt. Festus has gone to Jetmore to pick up some horses and Doc and Kitty send Thad to tell him what's happened. When Thad catches up with him and they head out after Matt. Then, things get tense when the gang finds one stubborn lawman and nineteen deputies in front of them only a few miles from the Oklahoma border.
Read More