Overview
Media
Fandom
Share
Episodes
3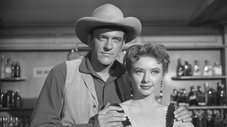 We don't have an overview translated in English. Help us expand our database by adding one.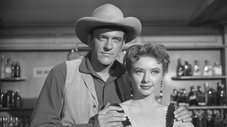 Sam Dukes arrives on the stage with Mr. Koger. Sam takes a fancy to Cody Durham's fiancee, Rose, who works at the Long Branch. Sam gets drunk and tries to force Rose to drink. Brack is ready to slap leather with, but Matt stops it and takes Sam's gun. Dukes in a dark alley tells Brack to draw, he shoots him not knowing he doesn't have a gun. Brack is wounded as the town looks for him. Brack goes to Cody's house. Cody digs the bullet out, and hides him. Rose comes to Cody's house and tells Brack she loves him. Thay plan to leave on the 6:00 train. Cody finds them at the station and kills Brack.
Read More
Jeb Crater and his prospecting partner Sholo are camping when Stretch Morgan rides up. Jeb invites him to share a cup of coffee and is impressed with his prowess with a gun. Explaining that they've finally struck it rich, Jeb hires Stretch as a bodyguard. Arriving in Dodge, Jeb tells everyone he's going to throw a party at the Long Branch. After bathing, Jeb and Stretch hide the gold pouches in the ground under the bath tub (Jeb doesn't trust banks), not telling Sholo because he might reveal its location if he has too much to drink. After the party Jeb is hit on the head and the search is on for Stretch.
Read More