Episodes
7
Jake Kaiser and some other ranchers hung Frank Tillman thinking he was a horse thief but they were wrong. Tillman's wife and son won't tell the Marshall who did it.
Read More
We don't have an overview translated in English. Help us expand our database by adding one.
A young man named Cale may have earned Marshal Dillon's respect, but Tate Gifford says Cale has just ridden off on a stolen horse - Tate's horse.
Read More
Annie tells Mom and Dad she's going fishin'. Phoebe Strunk and her four sons, Oliver, Casper, Hulett and Simsie ride up. They rob them and put them in their wagon and burn it. Matt and Quint are returning from hunting, and find the wagon and skeletons. Annie looks on then runs off. Annie gets to Sam's and Rosie's place. Ma and the missing links come to Dodge. The boys take notice of Annie. Sam and Rosie want to adopt Annie. The boys try to kidnap Annie. Matt tells them to get outta Dodge and stay out. Oliver follows Sam and finds out where they live. Ma and they boys come to Sam's. Ma rides off with Annie. The boys stay behind with Sam and Rose. Simsie takes Annie fishin'. Matt and Quint ride up to Ma's camp. Matt notices Annie's purse. Ma says one of her boys took it. Matt and Quint ride off. Matt tells Quint somethings not right we better ride by Sam's place. Matt finds Sam and Rose's bodies. Matt returns to Ma's camp. They're gone. Matt figures Ma's traveling
Read More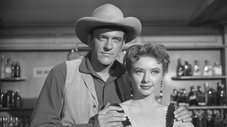 Paul Wiley and his gang get into a shootout with Matt and some of the townsfolk after robbing the bank in Dodge. During the shootout Mrs. Ayers and her young boy are shot down in the street. Wounded in the leg, Wiley ducks into the church. He finds Rev. Porter, his fiancée Phyllis, and Mrs. Howell there and sends Phyllis for a doctor. Matt sends posses out in a couple directions because the gang scattered. Festus figures out that Wiley may have doubled back towards Dodge. He sends his posse on while he and Thad head back for town. Doc tells Wiley he needs special instruments from his office to extract the bullet. Reluctantly, Wiley let's him go. Doc's forced into telling Festus about Wiley and is overheard by local citizen Baker, who
then tells Mr. Ayers that the man responsible for wounding his wife and son is in the church. Ayers, Baker and a moderate crowd decide to go get Wiley. Festus and Doc try to stop them, but it's a bullet fired from Wiley's pistol int
Read More
Kitty saves the life of a man during a stage hold-up, taking him back to his ranch she finds his mother a ruthless matron and his daughter alienated from her father.
Read More