Episodes
3
Gus Mather comes into Dodge and throws a big wake for a man named Orson Boggs
Doc and Chester are suspicious of this whole wake situation, but Chester and Doc attend the wake nonetheless and partake of the free drinks.
When Matt comes back to Dodge from his business trip, Chester informs Matt on what has been going on . Matt also thinks something strange is going on as well.
Matt and Chester are so suspicious of Gus Mather's story about Orson Boggs, they decide to do an investigation on all of this.
While Matt and Chester are doing an investigation, they run into a man on the prairie. He tells them that he knows of a Orson Boggs, but has never heard of Gus Mather. He tells Matt that Orson Boggs lived in the Red Bank area of the prairie.
Matt and Chester find Orson Bogg's farm. They discover Bogg's wife at the farm. Mrs. Boggs tells Matt that her husband is certainly not dead and that this story that Gus Mather is telling in Dodge about Orson being dead is false.
Mrs Boggs come to Dodge
Read More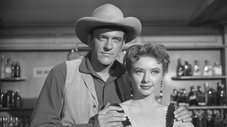 Widower Hardy Tate lost his wife over a year earlier and feels he's got a ""lot of livin' to do yet."" But his son, Cully, is having trouble getting over it and reluctantly reconciles to the fact that his dad is considering remarrying. When Hardy returns from doing business down in the Indian nations and comes back with Natacea, a young, and incredibly beautiful, Indian bride Cully has a difficult time accepting it. Many of Cully's acquaintances in town can't accept it either, resulting in a bully named Bill Craig beating him up. Matt tries to reason with Cully and deter him from wearing a gun and squaring things with Craig. Matt talks Hardy into marrying his new bride in a church in Dodge to allay some of the hostility, but Cully refuses to attend. Hardy tells Cully he can't tolerate his attitude any longer and invites him to get out on his own. Soon the underlying truth comes out; Cully wants Natacea to run off with him. Hardy catches Cully forcing himself on her, a struggle ensues bet
Read More