Episodes
1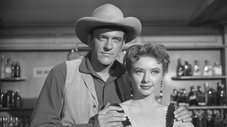 When a Buffalo hunter dies from injuries from burning led, Matt and Doc think that their boss (Jim Gatluf) might have had something to do with the man's dying.
After Matt speaks with one of Gatluf's employees about the killing of the Buffalo skinner, Matt is convinced that Gatluff murdered the man.
Soon after, Chester informs Matt that another Buffalo skinner had been murdered.
Since Matt is now convinced without any doubt that Guttliff committed these murders, Matt and Chester set off to bring Gattluff in for murder.
While Matt and Chester are searching for Gatluff out on the prairie, they run into a buying agent who tells Matt that he had recently done business with Gatluff. The agent also informs Matt where Gatluff's is.
When Matt and Chester ride into Gutluff's camp, they discover another one of Gutluff's men who has been attacked by Guttluf with a knife.
Matt and Chester finally find Guttluff's camp, but soon discover some more troubling information about this case.
Read More
Expand