Episodes
6
While Chester is teaching Miss Kitty guitar playing and singing technics, the cowpokes at the Long Branch are making quite a fuss over Frog mouth Kate.
Kate has a fondness for a younger man almost half her age (Billy Daunt). Billy does not share the same feelings for Kate and runs away much to the delight to the Long Branch barflies.
Late that night, Chester wakes Matt in the middle of the night to tell Matt that Kate had been shot at Ma Torvet's boarding house.
Ma Torvet tells Matt that Billy was the one who shot Kate. Ma also believes that Billy shot Kate because Kate kept some money stashed away under her bed.
Matt and Chester search the countryside for Billy Daunt.
While Matt and Chester are conducting their search, they discover the wife of a destitute farmer who claims Billy killed her husband and tortured a very old man.
Matt and Chester finally overtake a desperate Billy Daunt and transport Billy back to Dodge.
Shortly after their arrival in Dodge, Matt finds out some more tro
Read More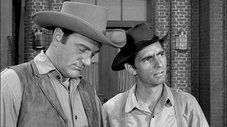 Kitty is the mystery woman of the day. She rides off in the night undercover and picks up a young boy. She doesn't want to tell Matt or Doc who he is and why she is takes off in the night. When she leaves for a few days with a wagon filled with enough supplies for a whole family, the guys start wondering who that boy really was...
Read More
Miss Dorf asks Doc to come out tomorrow. Clem Dorf's in the Long Branch abusing one of Kitty's girl. Matt tosses him out. Claude, Clem's dad, tells Matt he'll handle his son. Jack, a whiskey salesman, brings in magic rings. Buy a shot, you get a chance at the rings and you could win a wedding ring. Matt and Doc go to the Dorfs. Clem meets them with a rifle. Mrs. Dorf asks Clem to get some wood. She says her daughter, Althea, is locked in the cellar, please take her away. Matt breaks into the cellar. Doc says she's been beaten. Claude and Clem try to stop Matt from taking her. Matt takes Althea to Ma Smalley's. Althea wakes. Doc says he'll bring her books to read. Matt says she's about 21. Claude comes to visit Matt says git. Doc says she is a lot better. Kitty tells Doc to get some sleep, she'll sit with Althea. Althea want's to marry Doc. Dooley's trying to do the rings. Doc tells Kitty he has kind of a problem, Kitty already knows what it is. Kitty says she a wo
Read More
Ma Carp tells her son Rainey, somebody ought to fix the wheel on the wagon. It's been broke for a week. Matt sees five boys. He follows them to Ma. Matt wakes Rainey to help fix the wheel. Pa wakes and comes in. Pa whines about his lack if luck. Matt meets their daughter, Allie. Matt stays for dinner. Pa offers Allie to Matt. Allie tells Matt he speaks so nice and smiles so pretty. Mel Billings shoots up Matt's office. Then goes to the Long Branch and tears it up. Matt beats up Mel and takes money for the Long Branch repair. Then throws him and his brother Loren out of town. Allie is lost on her way to Dodge and comes into the Billings' camp. She tells Mel she's going to the marshall. Mel says he figures the Marshall owes him something. Allie reaches Matt's. She tells him it was terrible. Matt takes her to Doc. Allie didn't tell her folks she was leaving. Allie says her attacker knew Matt and was repaying a debt. Matt wakes Quint to get his horse. Matt takes Ali
Read More
Boone Shadler kills a guard and comes to a stricken town as a priest to keep from been caught by the law. Newly rides into town to try an help take care of sick people. Newly helps take care of Cyrus Himes who is dying. Newly thinks people may have gotten sick because of drinking bad water.
Newly test the water to find out what is in it, Matt gets a wire (letter) saying a sheriff released a prisoner 5 days ago. Matt wonders why Newly didn't return to Dodge with the prisoner. Newly wonders if the priest is who he says after seeing Sadler look for a Bible.
Sadler tells Dallas Fair he is a convict and that Dallas should go with him.
Read More