Episodes
7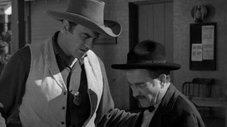 Matt talks to a wounded man who was shot with a bullet meant for him. The wounded man says Stone shot him, Matt tells Chester that he knew Stone a while back and is worried that he will be shot next, Chester tells Matt that the Danch left before dawn.
Matt learns that Danch was hired to kill Matt for Stone.
Read More
We don't have an overview translated in English. Help us expand our database by adding one.
In an Elkader hotel poker game, Mae young dopes the whiskey. The sheriff's son says Frank cheated and he's gonna tell his dad. Frank kills him. Frank tells Mae to get a buggy. She does, but leaves him. Mae turns up in Dodge as Hannah Clayton. Chester pays for the beer and tells Kitty keep the change. Matt's going to Abilene and asks Chester to serve an eviction notice on Tobe Hostetter. Chester tells Tobe, Wib needs help in his general store. Chester tells Skinner and his gang to behave. Chester introduces Tobe to Hannah. Skinner bothers Hannah. Tobe smashes his mug on Skinnr's hand. Tobe and Hannah ride out to the lake. Frank arrives on the stage. Frank asks Sam about a Mae Young. Tobe and Hannah are hitting it off. Frank says hello Mae. She asks him to leave her alone. Frank says do what I say or else. Hannah blows off Tobe. At Ma Smalley's Hannah tells Tobe we're through. Tobe leaves. Frank is in her room. Mae says don't ever touch me. He slaps she hits the
Read More
Matt had business in Hayes City and asked Doc Adams to transport $1,500 from the Cimarron Mining Company, a reward they were offering for a bandit named Dan Perce, back to Dodge. Buffalo hunter Abihu Howell comes across Billy Yeager and Ned Moore robbing an unconscious Doc, chases them off, and brings Doc into Dodge. Festus and Breck Taylor take off after Billy and Ned. They find their tracks and start trailing them back toward Dodge; Festus convinced of their guilt and Breck trying to remain impartial. They soon find Doc's empty wallet in a campfire and both are convinced of their guilt. Once they catch Billy and Ned, and get the money back, they take them back to the Dodge City jail. With Doc still unconscious and near death, Howell gets drunk and embellishes on his eye-witness account, causing the citizenry to consider lynching the pair. Breck sends a local boy to find Matt and bring him back to town as soon as possible. Billy and Ned manage to escape, but get trapped in a warehouse
Read More
Murdering sidewinder Del Ordman heads to Dodge to kill the marshal for killing his brother, but Matt had to go out-of-town and asked Festus to keep an eye on things. As Matt's leaving, Malachi Harper, a buffalo bone scavenger, arrives in town. He finds a letter waiting for him informing him that his brother Ethan, a well-to-do businessman from Baltimore, is coming through Dodge on his way to San Francisco. Malachi hasn't seen his brother in 35 years but wrote him once and told him that he was the marshal of Dodge City. Festus, Doc and Kitty play along with the charade. Ordman, not knowing the marshal by name, confronts Malachi and tries to kill him. When Matt comes back Festus fills him in on what's going on, while Ordman is facing Malachi down at the Long Branch!
Read More