Episodes
5
On a stage heading for Dodge Sheriff Darcy has a heart attack while guarding a murderer, Blackie. Mrs. Randolph is looking for her son Whitey. Matt tells her he was shot by a deputy two years ago. Darcy brings the kid in to Matt. He shot the cashier in a bank robbery in Caldwell. Mrs. Randolph fawns over the kid. Tasca Sloan and his gang, who the kid rode with, ride into town. Matt takes the kid to the Dodge House. Randolph tries vainly to try to help the kid escape. In the morning Blackie breaks a window to let Tasca know where he is. Matt heads for the train with Blackie. Mrs. Randolph follows. Tasca shoots Blackie. Matt shoots Tasca. Matt's wounded. The rest of the gang bite the dust. Mrs. Randolph tells Matt she was wrong.
Read More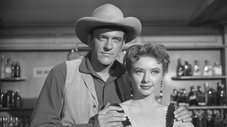 Someone keeps hanging people in Dodge and making it look like suicide.
Read More
Matt arrests James Cando. Cando tells Lee Binders to break him out. In the attempt to get him out Cando tries to hang Chester.
Read More
Doc Adams welcomes Dr. Wesley May & his wife into town, trouble begins when gossip about Doc Adams may soon not have a job. Doc takes Mrs. May to see a patient who Mrs. May believes to be 50 years but is only 33 years old.
Doc tells Mr. Boake he will need to amputate his leg, but before Doc does Mrs. May gets her husband because she thinks he can save it. Later Mr. Boak dies she trusted her husband & not the advice Doc gave.
Read More