Episodes
3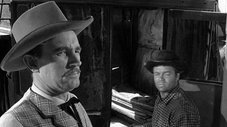 Hack Prine, a friend of Matt's rides into Dodge. However he is there as a gunman, for Matt Dillon.
Read More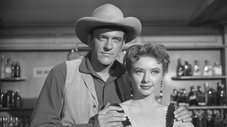 Tobin shoots a guy that owes him money from a poker game. Elmo Sippy comes by but doesn't help. Elmo gets in a poker game with Tobin. Elmo owes Tobin $25 on the last pot. Elmo steals exactly $25 from Wib's cash drawer. Wib tells Matt he thinks Elmo took $25. Elmo robs a nester of $20, and warns him not to say anything. Elmo buys Emmett Calhoun a drink at the Smoky Hill Saloon in Elkader. The hotel clerk wants $2 extra for Emmett staying in Elmo's room. Elmo says there was a rat in it. The clerk goes to look. Elmo steals $10 from the desk. Matt asks the nester if he's seen Elmo. He says he ain't seen nobody. Elmo offers $50 for a horse. He pays for it with the butt of his gun killing Joe Parks the livery owner. The clerk says two strangers stayed at the hotel last night. The barkeep heard Elmo say he was going to the Smoky Hill River. Elmo shoots Hank Barr and gets $3 and a watch. Calhoun says he quits. Hank's not dead yet and kills Calhoun. Matt stops at the Salt
Read More
A father disapproves of the man her daughter marries.
Read More