Episodes
7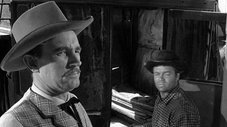 Hack Prine, a friend of Matt's rides into Dodge. However he is there as a gunman, for Matt Dillon.
Read More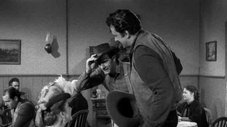 Joe Delk causes trouble at The Long Branch after shooting two men who were unarmed.
Read More
Argus Asher offers $60 for Festus'pelts, he feel are worth $120. They settle on $75 minus $2 for the use of the tub Festus is bathing in. Festus asks Quint what's been going on between him and Festus' girl April. Old man Gripholder gave April a rocking Chair. Festus busts it to pieces. April runs from Festus. She hides down an alley. She looks in a window and sees Grody and Bender putting their boss Asher in a barrell. He has a knife in his back. April goes looking for Matt, who's out of town. Quint, April and Festus go to check on her story. There's nobody in the barrell just pelts. April stays in the jail for safety. Matt returns and April tells him about the murder. Bender tells Matt Asher left last night to trade with the indians. Grody left before dawn with the wagon. Matt tells Bender Asher better make it back for his sake. Festus is wrestling a bear inside. He figures you can't figure women out and you can't trust them. Matt says if you ship pelts in a barrell
Read More
Falsely jailed on charges of murder and bank robbery, Festus is ordered to lead an aging sheriff and his zealous deputy to the missing loot. (60 mins)
Read More
The greatest bad-guy character actor of our time, William Smith, plays Jude Bonner, a bad guy who kidnaps, brutalizes, and shoots Miss Kitty in retaliation for his brother having been caught by Matt Dillon and hung for his crimes. Probably for the first time in seventeen years of Gunsmoke, Dillon takes off his marshal's badge before going after Bonner, with the intent of killing him.
Read More
Ron Moody guest stars as a man torn between keeping his own self-respect and the friendship of a young boy or keeping his drunken promise to help two hired gunmen.
Read More
Matt houses a drunk Will & Friends in the jail they go looking for $300 that they think Bill took. Matt thinks it was a misunderstanding. Will doesn't want to tell Matt that they shot Curly Wills (They buried him before going to Dodge.
Doak stops to see his girlfriend and says marriage will need to wait, as Will & Quincy leaves without Doak Quincy and the storekeepers are shot.
Read More