Episodes
6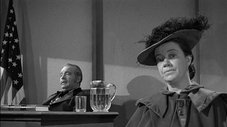 Victims won't testify against John Henry Jordan at his trial for robbing the stage. He's found innocent. Matt asks Vince a card sharp he reformed to clean out Jordan. Jordan rides off. Matt's going to follow, but Chester says Vince has been hurt bad. Jordan is having supper with the Bowens, two witnesses at his trial. Matt approches the house. Jordan hides. Matt tells the Bowens Jordan robbed and beat up Vince. Matt leaves. Jordan pulls a gun and demands their money. Jordan is ready to shoot them. Matt returns and shoots the lamp out. He wounds Jordan. Asked why he came back Matt states that's an awful lot of food for two people.
Read More
We don't have an overview translated in English. Help us expand our database by adding one.
Chester gets a letter and asks for a raise. Chester goes to work for Quint. The letter's from Uncle Sunday Meechum from Waxahatchie, Texas. Chester wants money to send him to California. Chester catches Quint's place on fire. Quint says he can't afford him. Chester next job is with Mr. Jonas then Dan Binney. Burt Curry offers Chester easy money until he finds that he works for Matt. Sunday arrives and introduces his niece Ellie. Chester asks his uncle what's he doing here. Just visiting. Burt wants to meet Ellie at midnight. After dinner Chester asks to meet Ellie later. Burt and Chester are both waiting for Ellie. When she comes Burt leaves. Chester leaves and sees Burt go to Ellie. Chester hears Sunday and Ellie are going to rob the bank. She's dumping Sunday for Burt. Chester tries to get Sunday out of town for the night. He won't go. Chester tells Sunday that Ellie has thrown in with Burt. Botkin lets Sunday and Ellie into the bank. Sunday pulls a gun. Ellie
Read More
Matt's old friend, Brad McClain, comes to Dodge and is immediately mugged by Yuma Joe. Getting the upper hand, McClain relieves Joe of his gun and sends him on his way. McClain tells Matt he wants to buy a business in Dodge and settle there. Matt introduces him to Jake Bookly, owner of a local stage line that frequently hauls gold from the local mines to Mr. Bodkin's bank. After gathering all of the information he can about the gold shipments, McClain enacts a plan to use Joe as a holdup man during a stage run, thereby killing Joe and setting himself up as a hero. He tells Jake Bookly he'll buy the stage line and is going to drive the stage to Dodge with the large $100,000 gold shippment coming in from the mines. Matt is suspicious of McClain because he has a paper that indicates McClain was involved in a bank robbery a few years earlier and shows up unexpectedly to ride shotgun for McClain. Pretending not to be able to control the horses pulling the stage, McClain knocks Matt out and
Read More
Kitty saves the life of a man during a stage hold-up, taking him back to his ranch she finds his mother a ruthless matron and his daughter alienated from her father.
Read More