Episodes
4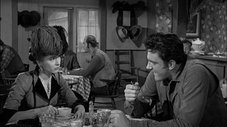 Matt kills a man and his widow posts a $1,000 reward for his death. Every one in the country from sodbusters to gunslingers is out to get the reward.
Read More
Belle Archer recognizes Jerry Shand and hides her face. Jerry has a grudge against Andy Cully, a paunchy hardware drummer. At the Long Branch Jerry is beating Andy up. Matt's ready to lock Jerry up. Andy bails him out. On the street Andy apologizes and offers Jerry $600. Jerry knows Andy is a murderer. Andy pulls a gun. Jerry shoots him. Belle sees it all from her window. Andy was really Bloody Bille Ashley one of Quantrill's raiders. He killed Jerry's father and carried his Ma from Lawrence, Kansas. Matt looks for Andy's gun. Matt tells Kitty they need a witness. They see Belle in her room. Belle says she didn't see anything. Belle watches from her window as they prepare for a hanging. Jerry says Quantrill took his girl Ellie and I haven't seen her since. Just then Matt brings in Belle (Ellie). She says Andy drew first. As Jerry rides past her window, he calls to Ellie. Belle says Ellie's gone, goodbye.
Read More
We don't have an overview translated in English. Help us expand our database by adding one.
Outlaws want Matt to leave Dodge so they can steal from the bank or they will kill a man per day.
Read More