Episodes
3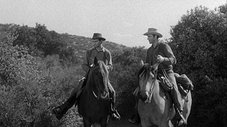 When a dishonest Deputy Sheriff takes a prisoner from Matt's jail without Matt's approval or knowledgel, Matt and Chester go after the Deputy Sheriff and the Prisoner.
Read More
Augie Shart and Gene Tyler a couple of drunks try to hang Weed Pindle from Texas once they find he fought for the Union. Chester stops it. Chester get Weed to play his guitar and take up a collection. Tyler and Shart paint Rainbow, Weed's burro, and smash his guitar. Matt slaps Shart and Tyler and tells them you two are through in Dodge. Weed washes Rainbow and rides out. Tyler and Shart follow. The townfolk follow. Tyler and Shart lasso Weed. We see one guy hung. As the camera pulls back there's two. Matt aks everybody where they were. They all have alibis. Doc wonders if Shart and Tyler had time to enjoy it, the hanging they wanted.
Read More
We don't have an overview translated in English. Help us expand our database by adding one.