Episodes
6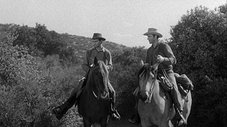 When a dishonest Deputy Sheriff takes a prisoner from Matt's jail without Matt's approval or knowledgel, Matt and Chester go after the Deputy Sheriff and the Prisoner.
Read More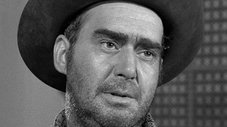 Zach and Bulow, up with a cattle drive, are raising a ruckus. Matt wants Zach's gun. He won't give it up. Matt hits him. Bulow draws his gun. Matt kills him. Zach tells Matt Bulow's brother Howard will shoot you in the back. Matt sees a guy hiding in the shadows. It's not Howard, but Howard comes up and introduces himself. Matt locks Howard up. Will Jacklin, the trail boss, comes for Howard. Will says he has fourteen men down the street. Reisling, the hotel owner, tells Matt you have to set him free. Matt tells Chester to go get Howard. Matt tells Jacklin, his men and Howard to get outta Dodge. Howard reaffirms he is going to kill Matt. Ben Cherry, a friend of Chester's Pa, raised Chester. Reisling says he's going to ride out to the cattle drive camp and tell the men they're welcome in Dodge. Matt and Chester go to the Dodge House to see how he did. Howard shoots at Matt from upstairs. Matt kills Howard.
Read More
Joe Digger wants to kill the two men who tried to lynch him.
Read More
We don't have an overview translated in English. Help us expand our database by adding one.
Ma Carp tells her son Rainey, somebody ought to fix the wheel on the wagon. It's been broke for a week. Matt sees five boys. He follows them to Ma. Matt wakes Rainey to help fix the wheel. Pa wakes and comes in. Pa whines about his lack if luck. Matt meets their daughter, Allie. Matt stays for dinner. Pa offers Allie to Matt. Allie tells Matt he speaks so nice and smiles so pretty. Mel Billings shoots up Matt's office. Then goes to the Long Branch and tears it up. Matt beats up Mel and takes money for the Long Branch repair. Then throws him and his brother Loren out of town. Allie is lost on her way to Dodge and comes into the Billings' camp. She tells Mel she's going to the marshall. Mel says he figures the Marshall owes him something. Allie reaches Matt's. She tells him it was terrible. Matt takes her to Doc. Allie didn't tell her folks she was leaving. Allie says her attacker knew Matt and was repaying a debt. Matt wakes Quint to get his horse. Matt takes Ali
Read More
A group of wealthy passengers on a private railroad car are quarantined in Dodge.
Read More