Overview
Media
Fandom
Share
Episodes
6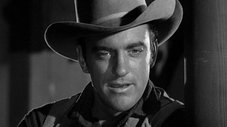 A buffalo hunter, Jase Murdock, is warned by Ross the storekeeper to stay out of Indian Territory. Matt goes to see Ross to ask if he outfitted Murdock. Ross tells Matt you tangle with Murdock you're wish you hadn't. Matt goes to talk with Murdock's skinner, Golden Calf. Chester tells Matt Murdoch is gone. Matt goes after him. Murdock shoots at Matt. Golden Calf kills Murdock. His medicine was no longer good. Golden Calf is Murdock's son.
Read More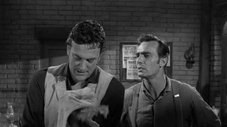 Mr. Dobie, the hotel owner, wants Matt to quiet Big Dan Daggit's wife, Rose, an indian. She the daughter of Yellow Horse the Arapaho chief who raided Dodge. Matt apologizes for disturbing the Daggit's. Dobie incites the menfolk. Dan and Rose walk down the street. A guy says for an indian she's a looker. Matt warns Dobie and his mob. A guy gives Rose a bad time. Dan steps in. Doc's gone out to the Duke place. Dan hasn't seen rose since 4:00 am. Doc rides up with Rose in his rig. Dan carries her up to Doc's. Two men kidnapped her. Tied her to a horse and hit her some. Doc asks Dobie if he's satisfied know. Rose says she can recognize their walk. Dan and rose sit outside the Dodge House. Matt and Chester takes turns watching them. Dan and Rose go up to their room. Rose recognizes the foot steps of the two men. She calls Dan, and asks him to go and get headache powders from Doc. The two guys, carrying a rope and gag, knock on Rose's door. Rose says come in. She got a
Read More
When a crazy man and his two songs whip a cowboy with a bullwhip almost killing the cowboy, Matt rescues the cowboy from the severe whipping.
When Matt asks Chester to untie the cowboy, the man makes threats to punish Chester for his sinful ways.
As Chester is walking home from the Long Branch, the man and his two songs kidnap Chester.
They bring Chester to their camp to stand trial in a Kangaroo court.
Since they think Chester interfered with the with the whipping of the cowboy, they plan to cut off Chester's hand.
One of the crazy man's sons starts to feel some compassion for Chester and attempts to save Chester from this punishment.
Just as the crazy man is about to hit Chester with an ax, the man is shot down.
Chester is surprised when he learns who saved him.
Read More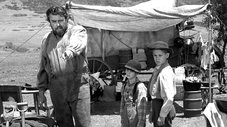 Sarah Cooley, dying of a heart attack, confesses to her husband, Gip Cooley, that her father changed his last name from Harper to Harris long before they were married. Harper was known for killing over 100 men, and Sarah wanted Gip to know about this so that he can raise his sons accordingly. She's convinced the bad blood has been passed on. Gip promises to be strict with them and Sarah passes on. Years later, with the boys, Kyle and Jeff, in their mid-twenties, Jeff accuses neighbor Carr of selling him a horse that's blind in one eye, but Carr won't buy it back. Kyle falls in love with saloon girl Jenny, but she marries Carr instead because he has his own ranch. She soon realizes it's a mistake and starts meeting Kyle on the sly. A plan is engineered to kill Carr and set Jeff up to take the fall for it!
Read More
Doc tries to examine Dan Braden. Matt stops at Tom and Mary Stocker's wagon. Tom sold his ranch to Dan Braden. Braden doesn't have the $1200. Dan postdated the IOU by a year. Dan offers Tom $600. Kitty tells Tom it's getting kind of late. Tom goes to Dan's. Dan shoots at Tom. Tom returns fire. A lantern is knocked over. Tom and Mary light out on horseback. Dan's body is badly burned. Matt asks Louie to stand guard. Lem Hubley rides up and invites himself to dinner. Tom tells Mary to get rid of Lem. Doc tells Matt Dan was shot. Tom tells Mary he shot Dan with a .36 Colt Navy, a rare caliber. Tom and Mary ride up to Bill and Beth Miller's. Bill figures they're on the run. Tom pulls a gun and clunks Bill when he rushes him. Matt and Festus find out from Lem where Tom is. Tom's horses run off in the night. Matt talks to the Millers. Tom hijacks two horses from a stage. Mary needs to eat and lie down. Barney Cox isn't too friendly until Mary says she's with child.
Read More
Jim Forbes returns from serving three years in prison for ""swindling"" the folks of Dodge. He had ran out of money mining for gold, salted the mine (planted high grade quartz ore in it), and borrowed funds from the townspeople to continue mining. Now, backed by money provided by his sister, he's reopened the mine in order to prove to the people of Dodge that there is gold in it, and to pay them back. Once locals Jason Holt and Clint Fisher find out that Forbes has some money in the bank they demand he make
restitution with it, forcefully. Things eventually deteriorate to the point where Forbes straps on a gun and goes looking for Holt and Fisher!
Read More