Episodes
4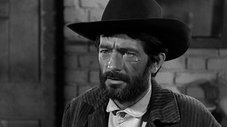 Two outlaws seek an old prospector's hidden fortune. They drag him to try to get him to tell. Three weeks later he goes to see Matt. They go looking for the two in the bars. Kitty introduces Obie to Ella May. Obie and Ella have been gone two days, they've been honeymooning. Matt asks Obie how did Ella know about him being dragged and going to California. Matt and Chester go to see Ella, she won't let them in. Matt finds Obie in the barn. He syas Ella won't cook, clean or anything, till Obie gives her his gold. The two outlaws show up and get the drop an Matt. They try to hang Obie. One tries to shoot Matt. Ella stops him but is shot. Obie tells Matt where his gold is.
Read More
The Gunner brothers rob the bank in Dodge and take Kitty hostage.
Read More
We don't have an overview translated in English. Help us expand our database by adding one.
Boone Shadler kills a guard and comes to a stricken town as a priest to keep from been caught by the law. Newly rides into town to try an help take care of sick people. Newly helps take care of Cyrus Himes who is dying. Newly thinks people may have gotten sick because of drinking bad water.
Newly test the water to find out what is in it, Matt gets a wire (letter) saying a sheriff released a prisoner 5 days ago. Matt wonders why Newly didn't return to Dodge with the prisoner. Newly wonders if the priest is who he says after seeing Sadler look for a Bible.
Sadler tells Dallas Fair he is a convict and that Dallas should go with him.
Read More