Episodes
4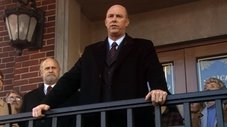 Some of the residents of Jericho are concerned that Gray's actions may actually make Gray the new mayor. In other news, Mitchell claims that Jonah is the killer under much speculation.
Read More
The battle with New Bern ensues, with Jericho residents out-manned and out-gunned, but not outsmarted. Jericho gains the upper hand but suffers a significant casualty. A friend of Jake's sends help from an unexpected source.
Read More
Following the battle of New Bern, Jericho begins the rebuilding process, while the Cheyenne government shows a particular interest in the town. While the dispute between Jericho and New Bern is being sorted out by the Cheyenne government, Heather returns. Meanwhile, an old friend of Rob comes to Jericho.
Read More