Overview
In 1925, Desmond Jordan, an American archaeologist, tries to find the mysterious Speaking Mountain that is supposed to be in the middle of the Sahara desert, where he meets a bunch of deserters from the French Foreign Legion, who are pursued by the ruthless Lieutenant Ryker.
Last Season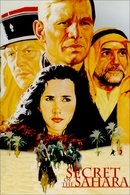 1988 | 4 Episodes
An American archeologist, Desmond Jordan, moves to Africa, seeking the fabled "Speaking Mountain". This brings him into the middle of the Sahara desert. Is the mountain just a fable or is there something to it?
Facts
Status Ended
Network
Certification
Meaning

No-one under 15 is allowed to see a 15 film at the cinema or buy/rent a 15 rated video. 15 rated works are not suitable for children under 15 years of age.
Type Miniseries
Original Language English
Runtime 90m
Content Score
Almost there...