Overview
Sakura Kinomoto, an elementary school student who discovers that she possesses magical powers after accidentally freeing a set of magical cards from the book they had been sealed in for years. She is then tasked with retrieving those cards in order to avoid an unknown catastrophe from befalling the world.
Featured Crew
Last Season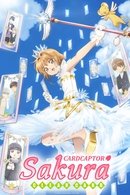 2018 | 22 Episodes
Fourteen-year-old Sakura starts junior high school along her friends, including Syaoran, who had just returned to Tomoeda. After having a dream with a mysterious cloaked figure, all of Sakura's cards turn blank and are rendered powerless, thus she starts her quest to find out what is wrong. In doing so, Sakura and her allies discover and capture new transparent cards using a new key.
Facts
Original Name カードキャプターさくら
Status Ended
Networks
Certification
Meaning

This program is designed for children age 7 and above.
Type Scripted
Original Language Japanese
Runtime 30m
Content Score
Yes! Looking good!