Overview
The Adventures of Edward The Less was a short lived, animated web-series published on the SciFi Channel's website in 2001. It was written and performed by most of the core cast and crew members of Mystery Science Theater 3000. It ran for a total of 13 episodes, with plans for more, though the SciFI Channel never renewed it.
Last Season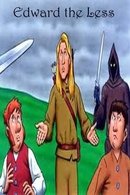 2001 | 13 Episodes
The series, primarily a combination of voice-over work mixed with still-frame paintings, was a parody of high fantasy literature, specifically J.R.R. Tolkien's The Lord of the Rings. The basic story arc dealt with a "Pudge" named Edward (voiced by Bill Corbett) who embarks on a great quest with his friend Soapwort (Kevin Murphy) and the wizard Primatene (Paul Chaplin) to throw a magic token into the Crater of Despair located in Mount Pain to destroy it and keep it out of the hands of the evil Dark Person.
Facts
Status Ended
Networks
Certification -
Type Scripted
Original Language English
Runtime 65m
Genres
No genres have been added.
Keywords
No keywords have been added.
Content Score
We're so close, yet so far.
Top Contributors