Overview
Sasahara Kanji is a college freshman who decides to join a student society to share his hidden thoughts on manga, anime and gaming. As he participates in club activities such as visiting dojin shops and anime festivals he opens his mind and resolves that he will make his way into the otaku world.
Last Season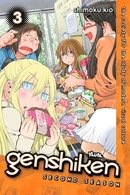 2013 | 13 Episodes
Another college semester begins and the returning members of Genshiken attempt to recruit new club members. Three new members join the club, attracted by Ogiue's BL drawings. She welcomes the new members but fears the club will become a "rotten girls" haven for yaoi fans and is getting a bit too far removed from it's original purpose.
Recommendations
We don't have enough data to suggest any TV shows based on Genshiken. You can help by rating TV shows you've seen.
Facts
Original Name げんしけん
Status Ended
Network
Certification -
Type Scripted
Original Language Japanese
Runtime 25m
Content Score
Almost there...