Overview
107 years ago, the Moon was destroyed in a massive cataclysm that shattered Earth's former satellite into 81 quintillion tons of orbital debris. However, thanks to super-science, the Earth itself was saved and today no one really thinks much about that century-past disaster. Which is why when teenage Haruka Amami auditions for something called the Idolmaster Project, she THINKS she's trying out to be a singing idol. Instead, Haruka finds herself at a secret school run by the Mondenkind Agency, living with a group of other girls who have also been selected as candidates to pilot an iDOL - an advanced robot specifically designed to intercept falling chunks of moon rock. Except, the people who run the Mondenkind Agency aren't exactly knights in shining armor. And then there's the question of whether the iDOLs are really JUST robots. Because from almost the first moment, Haruka starts to feel emotions resonating from within the iDOL called Imber.
Featured Crew
Creator
Last Season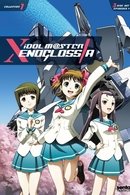 2007 | 26 Episodes
Much to her delight and surprise, Haruka was selected to become an "idol." Little did she know what she was getting herself into; rather than singing and dancing, she actually is employed by a secret organization that protects the Earth from "drops" (falling fragments of the destroyed moon) using giant robots called "iDOL," piloted by girls called "iDOL Masters." As she meets new friends and tries to adjust to this new life, a hostile organization that also utilizes iDOL emerges and attacks her in an effort to capture her iDOL, Imber. Can Haruka accept her new responsibilities, get along with her new peers and Imber, and do her part to protect the world?
Recommendations
We don't have enough data to suggest any TV shows based on iDOLM@STER Xenoglossia. You can help by rating TV shows you've seen.
Facts
Original Name アイドルマスター ゼノグラシア
Status Ended
Network
Certification
Meaning

This program contains some material that many parents would find unsuitable for children under 14 years of age.
Type Scripted
Original Language Japanese
Runtime 25m
Content Score
Yes! Looking good!