Overview
Charlie's Angels is an American crime drama television series that aired on ABC from September 1976 to June 1981, producing five seasons and 110 episodes. The series was created by Ivan Goff and Ben Roberts and was produced by Aaron Spelling.
It plotted the adventures of three females working in a private detective agency in Los Angeles, California, and initially starred Kate Jackson, Farrah Fawcett-Majors, and Jaclyn Smith in the leading roles. David Doyle co-starred as a sidekick to the three women and John Forsythe played the voice of their boss. Later additions to the cast included Cheryl Ladd, who entered the series in season two, Shelley Hack, in season four, and Tanya Roberts, in season five.
Despite mixed reviews from critics and a reputation for merely being "Jiggle TV," the show enjoyed an astonishing popularity with audiences, and was a top ten hit for its first few seasons. Because later cast changes were not well-received and the public's taste changed, the show concluded a five-year run in the spring of 1981. The series continues to have a cult and pop culture following through syndication, DVD releases, and subsequent film remakes.
Featured Crew
Creator

Creator
Last Season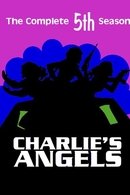 1980 | 17 Episodes
Charlie's Angels: Season Five is the fifth and final season of Charlie's Angels. The season starred Jaclyn Smith, Cheryl Ladd and David Doyle, and introduced Tanya Roberts as streetwise former model Julie Rogers. Season Five was broadcast from November 30, 1980 until June 24, 1981. Since the show's third season, ratings were falling. Producers believed replacing Shelley Hack with a new "Angel" would improve viewing figures, but with this season's timeslot being continually changed during its run, ratings continued to fall. Season Five aired only 16 episodes, the least of all the show's seasons, and the show was cancelled after this season concluded. Lot of rating fall is blame for the lack of quality in the episodes, the character of Tanya Roberts who not bring back the vibe of Farrah character and the three angels don't have the chemistry of the past 4 seasons. Rumors point that this season would be the last season of Jaclyn Smith as Kelly Garret.
Keywords
No keywords have been added.
Content Score
Yes! Looking good!