Episodes
3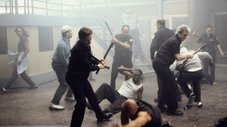 Friction grows in the wake of two deaths--first Ortoloni and now Johnny Post--so Wiseguy leader Schibetta, Muslim leader Said, and Homeboy Jefferson Keane are brought together by Warden Glynn, who tells them to keep their boys quiet or else he'll lock the prison down. The tension increases following a visit from Governor Devlin, who was responsible for the ban on smoking and conjugal visits. Meanwhile, Keane has found God--just as a couple of Latinos with a grudge find him.
Read More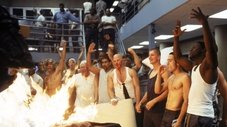 Beecher is released from the hole and Schillinger is left eyeless and weak. A riot breaks out after two white punks get into a fight over checkers. Frustration, sexuality, hate, revenge, racism all rear their ugly heads, causing the violence to escalate. Finally, after several prison officers are taken hostage, tear gas is thrown into the Emerald City and the SORT team arrives, guns blazing.
Read More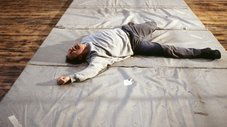 Wittlesey is transferred to Gen Pop and replaced by Karl Metzger, a Nazi. Mack and another Aryan try to escape through Busmalis and Rebadow's tunnel but the tunnel collapses and kills the two Aryans. Hill gets the idea of escaping Oz by hiding in a coffin. Sippel re-enters Oz because he can't deal with life on the outside, but Schillinger crucifies him -- literally. Alvarez gouges out Rivera's eyes and is put in solitary for life. Needing a blood transfusion for Rivera, Dr. Nathan finds that only O'Reily has the same blood type; he agrees to donate in exchange for getting his brother Cyril near him. Keller and Schillinger reveal their sordid plan of deceit to Beecher while breakingv both his arms and legs. Fortune teller Kipkemei Jara gives Adebisi hope of a new life; but he is murdered by Wangler on orders from Antonio Nappa. The grief this causes Adebisi lands him in the psych ward. Said is pardoned by Governor Devlin, but refuses choosing to return to Em City instead.
Read More