Overview
Ice Pilots NWT is a reality television series broadcast on History Canada that portrays Buffalo Airways, an airline based in Yellowknife, Northwest Territories, Canada. Buffalo mainly flies WWII-era propeller planes year-round in the Canadian North. It premiered on November 18, 2009. The show was renewed for a second season with filming completed on August 2, 2010. The season premiere was aired on History Television January 12, 2011. Season 3 was greenlit on August 18, 2010 and began airing on October 12, 2011. In the UK, series 2 was shown on Quest commencing May 2011. The episodes in season 4 have been shown on the Discovery Channel in the UK. Season 1 of Ice Pilots began airing on the National Geographic Channel in the US on April 22, 2011. Both Season 1 and 2 have aired in Australia on National Geographic Channel and National Geographic Channel HD and currently air on the digital channel 7 Mate.
On February 2, 2012 The Weather Channel announced that it was adding Ice Pilots to its primetime lineup. On March 5, 2012 the show started airing on The Weather Channel, starting with seasons 1 and 2.
The National Geographic Channel no longer airs the show regularly, though it does occasionally broadcast episodes.
Featured Crew
Creator
Series Cast
Himself, Buffalo Joe

73 Episodes

Himself

73 Episodes

Narrator

73 Episodes
Last Season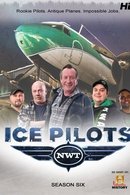 2014 | 8 Episodes
Ice Pilots NWT is back. The hugely popular docu-series following the adventures of the renegade Arctic airline Buffalo Airways returns for a soaring sixth season. Visually stunning and emotionally gripping, Season Six takes viewers through the toughest ice storm Buffalo has ever faced. This season opens with a meltdown when the C-46 suffers an engine fire on the runway, sending the entire Buffalo crew scrambling for a back-up plane. As the coldest winter in decades grips the Northwest Territories, every rampie and rookie pilot in the company faces huge challenges, including de-icing frozen up planes. Joe's new Electra from England isn't faring well either, as everything from its engines to instruments fail. Aspiring DC-3 pilot Prefkar Mony from India learns about northern living the cold, cruel way and later faces the wrath of Joe when he makes a serious mistake. Greenhorn rampies Jeff Tapper and Sam Storm are put to the test with their DC-3 checkflights, as they struggle with flight plan changes, food poisoning and plain old nerves. Down in California, it's Buffalo's top guns vs the rookies as they challenge each other in real fighter plane dogfights. Plus, there are new adventures for the McBryan clan. It's a crazy year, as Joe goes from celebrating his 70th birthday with a flight in an old Sterman biplane to being forced to relinquish official control of the company. Mikey sets up a big D-Day tribute jump with Princess Patricia's Canadian Light Infantry to celebrate the 70th anniversary of D-Day.
Facts
Status Returning Series
Network
Certification -
Type Documentary
Original Language English
Runtime 60m
Keywords
No keywords have been added.
Content Score
Just a little bit more...