Overview
Media
Fandom
Share
Overview
WWII in HD is a 10-part American documentary television miniseries that originally aired from November 15 to November 19, 2009 on the History Channel. The program focuses on the firsthand experiences of twelve American service members during World War II, including an Army nurse, a member of the Tuskegee Airmen, a second generation Japanese American and prisoner of war, and an Austrian Jewish immigrant. The twelve members recorded their time in both theaters and some had later interviews; found footage from the battlefield was paired with the stories of the twelve service members.
The episodes premiered on five consecutive days, with two episodes per day. The series is narrated by Gary Sinise and was produced by Lou Reda Productions in Easton, Pennsylvania, United States.
Last Season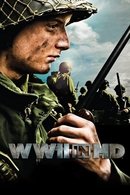 2009 | 10 Episodes
Seventy years in the making. Three thousand hours of colour footage no one knew existed. The first documentary to show World War II from the perspective of both sides in full immersive HD colour. The WWII in HD series uses the diaries of soldiers who fought in the war's biggest battles to create a personal, introspective and detailed look at life on and off the front lines. Though it was illegal for U.S. soldiers to carry diaries, many hid them away in their packs and recorded their experiences in detail. Now, through the use of these diaries and other source documents, as well as HD colour and on-location shooting around the world, WWII in HD transforms their journey into a tangible piece of history. Culled from rare colour archival footage from an exhaustive worldwide search and converted to HD with meticulous technique, WWII in HD provides a picture of World War II as it has never been seen before.
Content Score
Almost there...