Episodes
7
From Showtime:
For a long time, Chris has been stalked by Kim, a mousy fan who is so obsessed with him that she camps outside his house and tries to win him over with homemade banana bread. She suddenly disappears, leaving behind only a red tennis shoe. Chris is at first relieved, but then, he begins to worry and hires Ray,a musician-turned-private detective to track her down.
And Kim's disappearance isn't the only mystery. At an auction of celebrity memorabilia, Chris gets into a bidding war with Joe Walsh over a guitar owned by Elvis' sideman Scotty Moore, only to be beaten out by an anonymous phone bidder. Yola is determined to find out who got the guitar, so much so that she sabotages a blossoming relationship with Denver Lane, the antique expert and auctioneer who oversaw the sale.
Anson, meanwhile, is doing some sabotaging of his own. When his father Merrill, a demanding figure who doesn't approve of his music, asks him and his sister Marissa, to play a piece by Brahms at their
Read More
From Showtime:
When Chris tears his hamstring surfing and is confined to a wheelchair, Yola hires a physical therapist to help nurse him back to health. The therapist, a beautiful Chinese woman named Debbie Fung catches Chris' eye, but when he makes a play for her, she ignores him. Maybe it's the rejection, maybe it's the scary old movies he's been watching, but Chris starts to notice that there's something strange about Debbie. First, she won't tell him where she's from. Then he walks in on her while she's practicing Kung Fu. When he discovers another Chinese woman lurking in his garage, Chris is convinced something sinister is going on.
To add to the intrigue, Anson gets wind of the fortune that, according to urban legend, is buried in the secret tunnels under Bimbo's. He heads down to look for it and when Kenney comes along to get his keys back from Anson, the two of them are trapped in the subterranean passages. Hershel, meanwhile, has an idea for a movie, but can't get anyo
Read More
From Showtime:
Sifting through a pile of neglected mail, Chris discovers a final notice summoning him to jury duty. Later, during a rehearsal, the guys and Everclear's Art Alexakis discuss how to keep him out of the jury box. Clutching a note from his doctor, Chris arrives at the courthouse but brightens considerably when he meets Irina, an immigrant proudly sporting her jury ID badge. She is swept up by the opportunity to serve her new country, while Chris is swept away by her good looks.
Meanwhile, Yola has a professional and personal crisis to deal with. When a new client has a heart attack while having sex in the Ikonn conference room, Yola immediately initiates damage control. But dealing with her personal feelings proves more difficult when she finds out that the man she is protecting was cheating on a devoted wife. Anson has a different set of challenges when his newest girlfriend, Sherrie, wants to make home movies of their rambunctious lovemaking. Reluctantly, at first,
Read More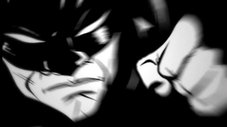 From Showtime:
Bret Michaels, lead singer for the rock band Poison, is producing a movie and may have a part that's perfect for Chris. To help him decide, Bret wants to hang out together. Eager for the part, Chris puts his best foot forward. But his principles waiver when a neighbor begins building a deck too close to Chris' house. To maintain his privacy and his relationship with the guy next door, Chris makes an anonymous call to the building department. Feeling like a snitch, Chris realizes that the effects of his underhanded tactics are extending much further than his own backyard.
Kenney loves everything about Janine and he's blissfully happy. Then, during a mid winter fishing trip with the band, Kenney discovers that Janine had a previous relationship… with Anson! To make matters worse, Anson offers him inside information on what gets Janine sexually charged, turning his seething anger into a full rage. Kenney's struggle to come to terms with this incomprehensible truth p
Read More
From Showtime:
Chris secretly longs for a few days to unwind when the demands of his work start piling up. Instead, he must prepare for a visit from television host Lucia Kent, who plans to broadcast her show live from his house. To spruce things up, Chris decided to install a fountain and, ever frugal, begins the work himself. While digging in his backyard, he uncovers a hatch leading to a 1950's bomb shelter. Later, excited by his historical find, Chris invites Yola, Kenney, Roly, and Hershel to go below. But when the inside latch breaks off, trapping them all inside, it seems assured that Chris will have an endless holiday!
Meanwhile, Anson can't think or see straight when Julia, a hot new waitress at Bimbo's convinces him that he would be more appealing with green eyes. But the new tinted contact lenses don't do anything for his looks, his vision, or his love life. Dejected, he heads over to Chris' house to discover everyone inexplicably missing.
Yola isn't sure how she feel
Read More
Chris receives an extra $20 when he visits his local bank's automatic teller machine, and feels as though he won the lottery. But when he shares the happy news with Mona, she annoys him by insisting the money be returned. Believing he came by his windfall honestly, he refuses. Later, Chris is shocked to discover that Mona has vanished from her lair. When he runs into a girl named Stacy, who looks just like his missing muse, he wonders if Stacy is really Mona, determined to give him a morality lesson.
After moving into a new house, Cody hires Yola's housekeeper, Mihaela, after Yola recommends her for the job; unaware that she only did so out of spite. Much to her dismay, however, Yola finds out that Mihaela and Cody might be a better fit than she'd originally anticipated...
Meanwhile, Anson and Tanya wake up in their Las Vegas hotel room after a night of hard partying to find that part of the evening's activities included a wedding...
Read More
Chris is in for quite a jolt when Gloria Estefan arrives in San Francisco to perform with him and the band. During rehearsals she showers the guys with compliments, impressing them with her kindness and lack of pretense. Though initially flattering and supportive, the real reason for her visit is soon revealed, though not before the seeds of rebellion have been sown between Chris and the band. To make matters worse, Chris, who always shuns caffeine, is tricked into drinking Gloria's special blend of Cuban coffee, and now can't seem to function without it.
Yola, meanwhile, has her hands full dealing with a pizza company that has illegally used one of Chris' songs in their advertising spots. As she works to prepare Chris for his deposition, she notices his erratic, caffeine-induced behavior, and suspects it may be linked to Gloria. By the time she arrives to take him for his all-important deposition several days later, her worst fears are realized... Chris' Cuban coffee addiction ha
Read More