Overview
While at summer camp, seven kids are transported to a strange digital world. In this new world they make friends with creatures that call themselves Digimon who were born to defend their world from various evil forces.
Series Cast
We don't have any cast added to this TV Show. You can help by adding some!
Last Season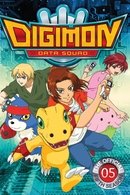 2006 | 48 Episodes
Our heroes and the members of D.A.T.S. ("Digital Accident Tactics Squad"), an organization created to conceal the existence of the Digital World and Digimon from the rest of mankind, are facing a massive conflict between Earth and the Digital World triggered by an ambitious human scientist determined to make use of the Digimon for his own personal gain.
Facts
Original Name デジモンアドベンチャー
Status Ended
Networks
Certification
Meaning

Can be aired at any time.
Type Scripted
Original Language Japanese
Runtime 20m
Content Score
We're so close, yet so far.