Episodes
6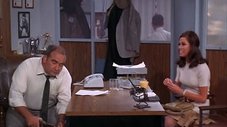 The classic series begins its classic 7-year run in Mary's apartment. Mary Richards, a 30-year-old single woman, has left her long-time boyfriend, Bill, to be with her old friend, Phyllis Lindstrom, in Minneapolis. (Mary originally lived in Roseburg, MN.) Why did Mary leave Bill? After promising to her that he would marry her right after his internship at the hospital, he said, ""Why rush into things???"" Meanwhile, she's already having troubles with her new apartment--a bitter upstairs neightbor, Rhoda Morgenstern, insists that she owns Mary's apartment!
Later, Mary goes on a job interview at WJM-TV's The 6:00 News for a secreterial job. Lou Grant, the boss, tells her that the job has already been filled, but he does say that the job of Associate Producer is open. Sure, it offers $10 less per week than the secreterial job, but Mary is fine. ""If you can get off with $15 less per week, I'll make you Producer,"" he says. She declines, then goes on to meeting Ted Baxter, the ridicul
Read More
Rhoda's mother, Ida, comes visiting and Rhoda refuses to see her. Ida stays with Mary but drives her crazy.
Read More
Feeling sympathetic for a co-worker who hasn't spent Christmas with his family for years, Mary is forced to stay alone at WJM-TV on Christmas Eve.
Read More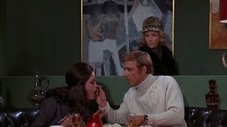 Mary reluctantly finds herself romantically involved with a married man.
Read More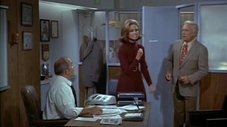 Mary is given the task of making The Six O'clock News more upbeat, and her plans are on target to succeed until they're frustrated by Ted.
Read More
WJM-TV has some personnel changes in the executive department (again), and everyone except Ted Baxter is fired. The new station manager wants to see the WJM News the highest-ranked in Minneapolis, and for some reason feels that Ted can help him make it happen. (Seems a little odd, eh?) The gang says goodbye to each other in the form of a long, hard cry. Mary thanks them all for being her surrogate family, and Lou finally sentimentally says, ""I cherish you people."" They bravely march out the office doors singing, ""It's a long, long way to Tipperary."" At the last moment, Mary leans back through through the WJM-TV doors and turns out the light.
So long, WJM-TV.
Read More