Episodes
1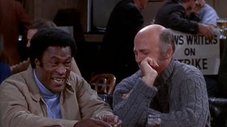 The writing and technical unions go on strike, leaving only Lou, Mary, and Ted in the newsroom. WJM-TV makes Lou be second cameraman on ""The Chuckles the Clown Show"". Because an upset Murray is on strike, Mary has to write the news stories. They are terrible, and when Lou criticizes them, she starts crying.
Things take a turn for the worse: Ted's union strikes, and Lou has to fill in as anchorman! On his first brodcast, he has ""clammy hands"", and he bombs. At a local bar, Murray, Gordy, & Mary share a laugh over this. After drinking before his 2nd brodcast, he is ""as cool as a cucumber""--that is, until he falls asleep at breaktime. Herb fills in for Lou for the rest of the brodcast.
The next day, the unions come to an agreement, and everything goes back to normal. Rhoda Morgenstern & Phyllis Lindstrom do not appear in this episode.
Read More
Expand