Overview
Media
Fandom
Share
Episodes
2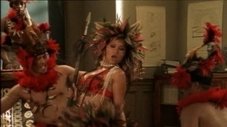 Event: NEPAL 523 B.C.
Sydney and Nigel go to Nepal searching Buddha's bowl for villagers building a shrine to Siddhartha, the original Buddha. But Sydney's rival, Stewie Harper, is also searching for the artifact. Hired by a banker, Michael Chan, who needs the bowl to save his family's bank from financial ruin, Stewie will stop at nothing to beat Sydney, and it takes all her resources to make sure the bowl ends up in its place.
Read More
Expand
Event: ST. PETERSBURG, RUSSIA 1886
Sydney knows she's putting her life on the line, when she agrees to a sting operation orchestrated by Interpol agent Cate Hemphill. But before the sting begins, she's snatched by an unseen assailant, and it's up to Cate, Nigel and Claudia to pinpoint a suspect. Between rival Relic Hunters and enemies made on Sydney's adventures, the three have to rescue her before it's too late.
Read More
Expand