Episodes
3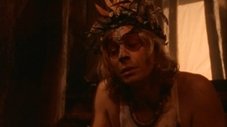 Event: VANUATU ISLANDS 4800 B.C.
Government agent Derek Lloyd, who tricked Sydney and Nigel into a mission once before, lures Sydney to New Guinea by kidnapping Nigel. Sydney and Nigel don't believe that the spy is on a goodwill mission, but are seduced by the possibility of rediscovering a lost civilization, the Kai Nomata, an ancient tribe believed to have been destroyed by a volcano thousands of years ago. When the need-to-know details are revealed, Sydney and Nigel don't know who or what to believe.
Read More
Event: BURMA THE BRITISH-BURMESE WAR 1824
To rescue a relic-hunting team hired by billionaire entrepreneur Rod Thorson to locate an ancient sacrificial bowl, Sydney, Nigel and Thorson parachute into the Myanmar jungle. The crew's last video transmission of a figure ravaging the campsite does not bode well. Hoping to find the crew alive, as well as the world's oldest recorded religious artifact, they uncover a living link to man's savage ancestor, homo heidelbergensis.
Read More
Event: ST. BEATRICE'S SCHOOL FOR GIRLS 20 YEARS AGO
In flashback we find out that Sydney's mentor at boarding school was an archaeologist, and was murdered over an Egyptian necklace. Young Sydney witnessed the murder, and can identify the killer's face. In the present day, she is contacted by her roommate Darcy Lowe, who needs her help to find the necklace and bring the murderer to justice. Darcy, Sydney and Nigel travel to find the necklace, only to find out that the murderer was Darcy's father. He was unjustly accused, since Sydney didn't see the real murderer off to the side who shot her teacher. The real killer is the mysterious Deviega, who is the head of a cult devoted to recovering the two parts of the necklace. Infiltrating a ceremony, Sydney tries to capture Deviega and avenge her teacher's death, but he escapes.
Read More