Episodes
4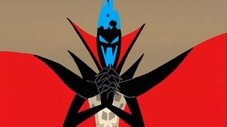 Aku has his most powerful minion, Demongo, find jack and capture his essence. Jack is no match for Demongo, because Demongo has the essence of thousands of great warriors, and can summon them from skulls to fight for him, and since essence cannot die, whenever Jack kills a warrior, Demongo can bring him back. Jack realizes he must free the essence from Demongo. Jack hitches a ride on a warrior's essence into Demongo's body, and sees all the warriors, each trapped in a circle of fire. Jack destroys the circles and frees the warriors, who then surround a powerless Demongo as Jack walks away. Later, Aku is holding Demongo, trapped in a giant skull. Demongo begs Aku for forgiveness.
Read More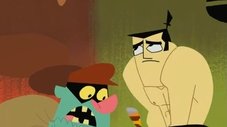 After his clothes and sword were stolen by a white hare / British girl,Jack must figure a way to it back,while chased by some angry people who thinks he's naked
Read More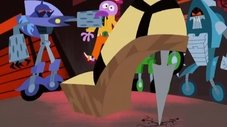 Jack's enjoying a nice, quiet day by the riverside... until a band of transforming biker-bots nearly runs him down, wrecking his precious sandals in the process! The bots proceed to inflict some serious property damage in a nearby city, and Jack rushes off to stop them, and get some payback for the destruction of his sandals... but it seems he's having a bit of trouble doing that in his bare feet! The thugs find his display laughable, and drive off. Jack then encounters a shoe-store owner, who congratulates him for standing up to the biker-bots, and offers to supply him with a set of replacement footwear. Jack tries out all kinds of shoes and boots, but nothing seems to suit him, or be much of a help in defeating the biker-bots. Then he receives a little hospitality from a young Asiatic boy and his family... not to mention a new set of sandals from the boy's father! Jack then proceeds to track down the bikers and beat the tar out of them.
Read More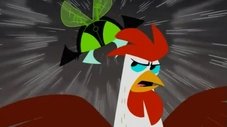 Jack bumps into an old wizard who transforms him into a chicken - a rather goofy-looking master of the martial arts that nobody can understand. He gets captured and taken to a animal fight where he must defeat a robot beetle and snake. Jack wins but must then fight a spider-like creature, a giant worm, and the ratlike mechanical "Finisher". Jack's series of wins make his new owner a wealthy man but when he goes out to buy some decent clothing he bumps into the same wizard who hits them both with a spell - causing Jack to become human and the owner to become a chicken. Jack departs with a new found appreciation for the virtues of not eating chicken.
Read More