Overview
They are neither plants nor animals. They differ from other forms of life such as the micro-organisms and the fungi. Instead they resemble the primeval body of life and are generally known as "Mushi". Their existence and appearance are unknown to many and only a limited number of humans are aware of them. Ginko is a "Mushi-shi" who travels around to investigate and find out more about the "Mushi". In the process, he also lends a helping hand to people who face problems with supernatural occurances which may be related to the "Mushi".
Featured Crew
Creator
Last Season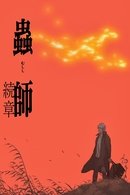 2014 | 20 Episodes
During his travels, Ginko discovers various gifted individuals—those cursed by circumstance and those maintaining a fragile symbiosis with the Mushi—inevitably confronting the question of whether humanity, talented and tortured alike, can manage the responsibility of the unseen. Moreover, as a Mushishi, Ginko must learn more about these strange beings and decide if he has the right to interfere with the complex relationships between Mushi and mankind.
Facts
Original Name 蟲師
Status Ended
Network
Certification -
Type Scripted
Original Language Japanese
Runtime 25m
Content Score
Almost there...