Episodes
4
Anna announces that she is leaving Newport to go back to Pittsburgh, which leaves Seth feeling saddened and guilt-ridden. Legal troubles brew for Caleb and Kirsten while Sandy works to solve them. Luke and Julie's secret romance is getting harder to contain, and Theresa brings a bit of trouble from Chino to the O.C.
Read More
Ryan and Volchok make a deal after a fallout at prom. Sandy is chosen as Man of the Year, but this sparks the DA to dig deeper into his involvement with the hospital problems. Marissa goes and sees Kaitlin at her boarding school and Seth visits the Newport Group HQ and lights up the joint.
Read More
It is graduation day for Ryan, Seth, Summer, and Marissa at Harbor High School. After graduation they all went out to eat and celebrate their graduation. Ryan's mother gave him a new car as a graduation present. Marissa is going to spend a year on a boat with her father as her graduation gift. Seth finally got into RISD for second semester. Summer is still going to Brown University in the fall. Volchok is still mad at Marissa and Ryan so he decided to crash Ryan's car.
Read More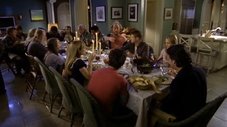 It's Thanksgiving time. Volchok is back in town and Ryan seems eager to take revenge. At first Sandy and Kirsten try to talk him out of this but, then, Sandy makes Ryan face Volchok. Julie's behavior turns Kaitlin away and permanently jeopardizes her relationship with Dr. Roberts. Summer starts protesting against poverty issues and turns the Cohens' Thanksgiving dinner into a homelesses' refuge. It's clear she hasn't got over Marissa's death yet. Veronica kicks Taylor out as soon as she discovers her beloved daughter married a French man during her European trip.
Read More