Overview
Jinto Lin's life changes forever when the Humankind Empire Abh takes over his home planet of Martine without firing a single shot. He is soon sent off to study the Abh language and culture and to prepare himself for his future as a nobleman - a future he never dreamed of. Or wanted. Now, Jinto is entering the next phase of his training, and he is about to meet his first Abh, the lovely Lafiel. But Jinto is about to learn that she is more than she appears to be. And together they will have to fight for their very lives.
Last Season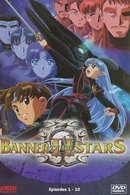 2001 | 10 Episodes
Due to a lack of ambassadors for the recently-conquered worlds the rapidly advancing fleet of the Bebaus brothers leave behind, Lafiel is appointed Territorial Ambassador of the planet Lobnas II. Upon arriving to the planet Jinto and Lafiel discover that the planet was used by the United Mankind as a prison planet and now has a million prisoners on the only inhabited island. The prisoners are parted in three blocks. The western where women are housed, the eastern belongs to the men and the central is mixed under the restriction that all prisoners living there are sterilized. The women in the western sector want to emigrate from the planet of fear for the men and when they do the men in the east rebel, overthrowing the guards and capturing Jinto to try to stop the emigration of the women. At the same time an enemy fleet heads toward the system forcing Lafiel to abandon Jinto.
Recommendations
We don't have enough data to suggest any TV shows based on Crest of the Stars. You can help by rating TV shows you've seen.
Content Score
We're so close, yet so far.