Episodes
7
Lilimae meets Jackson Mobley, who promises to make her a star. He steals $200 from Kenny and Ginger, and then asks Lilimae to marry him. They go to Las Vegas. When he finds out she's poor, he admits he was trying to con her. Jackson convinces a lounge manager to let Lilimae sing. Val and Gary rush to Las Vegas to stop the wedding, and are relieved to find out they didn't get married. Richard is tired of being the company pimp and takes his anger out on Laura. Laura runs to Scooter's, only to find out that he is getting back with his wife. Richard continues to yell at Laura, and she starts screaming and slaps him. Abby asks Gary to perform a skit with Olivia on ""Father's Night"". As Gary, Abby and the kids get into the car, Abby says, ""See, we're a real family!"" This upsets Val, and Lilimae tells her she'd better watch out for Abby.
Read More
Val runs into her ""mystery man"" Ben Gibson while jogging on the beach. He admits he doesn't jog, and was just doing it to meet her. They go to dinner, but Val leaves when she learns he's a reporter. Gary buys a ranch and tells Abby he wants her to move there with him. She's mortified. Mac has the FBI help find Diana and Chip. On the road, Diana pays for gas with her credit card. At a motel, she sees a news story about Chip and is unnerved. Chip starts to cry and tells Diana that he slept with Ciji before he met her. He says Ciji was going to tell Diana she was pregnant to break them up. Chip said he was scared he would lose her, so he and Ciji got into an argument and that he hit her, but didn't mean to kill her. He claims it was an accident, but that he did it so he and Diana could be together.
Read More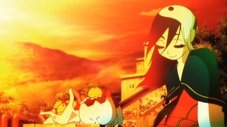 Val is upset as Ben leaves for El Salvador. She finds out she's having twins. She gets a call saying Ben and 2 others were on their way to a rebel encampment and their jeep was hit and the men are missing. Cathy gives Ray $5,000 to leave, but he won't. He grabs Cathy by the hair and Gary sees and beats him up. Ray say's they'll pay for this. Gary and Cathy sleep together. Mac, back on the crime commission, pretends he's no longer going after Wolfbridge but tells Abby he'll grant her immunity if she'll help him go after them. Abby tells Greg. Mac tells Tom Jessick that Abby bought that he needed her help and has already probably told Wolfbridge. Gary has Abby's assets frozen, and St. Claire tells Greg that it's his problem to unfreeze them.
Read More
Karen finally agrees to have the operation and checks into the hospital. Abby wants in on Empire Valley, but Galveston tells her to go home and raise babies. Greg wakes up and Galveston is in his room and says that he is dying and it's time for him to forgive and forget. Galveston says his money has more power than being a senator, and Greg craves power. Greg tells Laura his divorce is final. People mob the station wanting to see Joshua, so Abby gives him a regular segment on Reverend Kathryn's show. The detective reports to Abby on Val, but Abby tells everyone he has no leads since Nevada. In Shula, Val goes to a ""social"" with Parker, but walks out when people tell her he has a girlfriend. Parker tells Val that they broke up, and he kisses her.
Read More
Mac shows a tape of the Tidal Basin murders to Lila Maxwell's roommate who recognizes Scott Easton and tells Mac he worked for Galveston Ind. Then Karen recognizes one of the men as John Woodside, one of Galveston's aides. Greg tells Laura that his father, Sumner, died as a pilot in the Korean war. Then Galveston showed up at his house, and Greg discovered that his mother and Galveston had been having an affair for years. Then Galveston told Greg that he was really his father. Abby flies to Shula and asks Val to level with her about if she is going to come home. Val doesn't recognize her and thinks that Abby is crazy. Parker overhears and researches Val in the library, and knows that she is really Valene Ewing. Parker asks Val to marry him, and she says yes. Gary tells Abby that Galveston called and said he needed to tell him something about her so Abby tells him that she found Val. Gary catches the first flight to Tennessee.
Read More
Gary goes to Jill's to get her some clothes. He sees her yearbook where her name is Dorothy Simpkins, and pictures of Peter that are signed ""for my sis."" Home, Jill asks Gary to marry her, but he says he needs to get to know her better. Lilimae gives Abby a packet of cocaine she found in Olivia's car. Abby searches Olivia's room as Olivia is in the barn snorting coke. Abby follows Olivia and sees her buying drugs. Abby grabs her purse and dumps out the drugs. Greg wants Laura to have an abortion. Paige tells Mac and Karen that she faked her death to get away from her grandparents. They are not sure if they believe her. Karen researches and finds an obituary saying Paige died in a boating accident. Mac decides to call the Winston's, and Mr. Winston tells him to stop calling because it upsets Anne. Mac is surprised to hear that Anne is alive.
Read More
Paige tells Steve their kiss meant nothing. Greg assigns Paige to be head of Sumner Plaza and introduces her to Brian, the architect. He asks Paige to dinner and they kiss. Brian and Linda already know one another and sleep together. Linda moves to the ranch, where Greg tries to get her to play croquet. Gary, feeling bad that he broke Kate's arm, offers her a job at the ranch. Claudia's upset as she wanted Kate to work at the Sumner group. Frank passes the bar and starts a new job at a fancy legal firm. He's mad when he finds Julie and Jason kissing. Anne and Nick steal a valuable piece of art from the Sumner collection. Anne wakes up to find that Nick has left her and taken the statue with him. Anne demands Claudia give her money or she will tell all. Claudia calls Greg and Steve into her office and tells them that Galveston is Steve's father.
Read More